MS Vision is Europe's leading independent LC/MS service provider, offering support to hundreds of customers throughout Europe in a flexible and cost-effective manner. Established in 2004, we support with 12 field based engineers all current and old models of LC/MS platforms manufactured by Waters, Thermo and AB Sciex. An important activity which has taken place continuously within MS Vision since 2005 is the modification of standard mass spectrometers for dedicated analysis of large proteins and protein complexes. In close cooperation with the group of Prof. Dr. Albert Heck at Utrecht University, hardware and software adaptations were developed and implemented for improved ion transmission and desolvation of high mass ions sprayed under native conditions. This has lead to the sales of ~30 modified mass spectrometers throughout Europe, which are currently maintained by MS Vision. Several development projects are now running at MS Vision and partners to further improve performance of these systems, in terms of selectivity (Ion Mobility project with Prof. Dr. Perdita Barran, Manchester University), sensitivity and desolvation (project with Fasmatech, Athens, Greece).
Key persons in TopSpec
Jan Commandeur holds a BSc degree in Chemistry (Hogeschool Alkmaar, 1990). He continued his education at FOM Institute for Atomic and Molecular Physics (AMOLF) in Amsterdam, where he was involved in a wide variety of multi-disciplinary research projects as support technician. He joined Micromass (Waters) in 1998, and specialized in mass spectrometry support, both from a technical as a management point of view. In 2004 he was one of the co-founders of MS Vision, where he manages the service activities and is the driving force behind the various technology projects that lead to the sales of modified instrumentation for the analysis of large protein complexes, and that are currently underway (Ion Mobility, enhanced desolvation).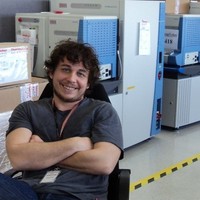 Silvio Keckes, graduated at the Faculty of Physical Chemistry at the University of Belgrade in 2003. In 2011-2012 he continued with M.Sc. studies at the Department of Analytical Chemistry in Belgrade. From 2012 until today Silvio continues his education in the same faculty and prepares his PhD work. Silvio has attended a number of service, application, and education training courses in different factories and training centres (Atlas Park Manchester; Waters Paris training centre; Thermo Scientific Bremen) where he focused on service, application and education in the different fields of Mass Spectrometry (Triple Quads, Ion Trap, OrbiTrap, Magnetic sector). He has co-authored on 5 scientific papers in peer-reviewed journals and contributed to a number of conferences with posters and oral presentation. Silvio worked as product manager for chromatography and Mass Spectrometry for Analysis d.o.o for Serbia, Bosnia and Herzegovina, Montenegro, Macedonia, and Albania providing sales, marketing, service, application and education for related products. At MS Vision he works as technical support specialist for Thermo MS equipment with a strong focus on Orbitrap technology.
Main Tasks in TopSpec:
MS Vision will focus on testing and investigating the market for the TopSpec technology, including preparation of the Business plan in collaboration with all partners.